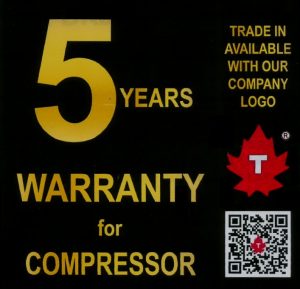 Please read through the warranty conditions for those products that contain this special warranty sticker.
 Maple appliances are fully warranty against manufacturing faults as follows:

A. Parts: Compressor   – 5 years.
               Other Parts    – 1 year.
B. Free technical fee    – 1 year.

 This warranty card is valid only in Malaysia and must be presented together with purchase receipt when servicing is required.
 Under the following circumstances,service and parts will be chargeable even within the warranty period: –
a) Failure to present warranty card and purchase receipt.
b) Any alteration made on the warranty card.
c) The damage or defect is caused by misuse, tampering, fire, household pests, abnormal voltage, unauthorised modification or wrong installation.
 This warranty does not cover any damages and/or losses, consequential or otherwise, whatsoever and howsoever caused by any manufacturing defects.
 All faulty parts and materials due to manufacturing defects within the warranty period are limited to one free replacement only.
 The compressor and parts are warranty as per clause 1 above, provided the product was services by Maple regularly during the warranty period at the purchaser's cost.
 At the expiration of the warranty period of one (1) year from the date of purchase of "the product", all expenses relating to labour charges, re-charging of gas, transportation and or freight charges and whatsoever charges incurred in regarding or replacing the compressor under the respective warranty periods and terms and conditions as indicated clause (1) above.
*NOTE: In case of discrepancies between in English, Bahasa Malaysia and Mandarin versions, the English version shall apply and prevall.
             Top Maple Enterprise Sdn. Bhd. reserve the right to amend any of the conditions listed above.
 Maple dijamin sepenuhnya daripada kecacatan cela buatan dalam tempoh seperti berikut:

A. Alat Ganti: Kompressor                – 5 tahun.
                        Lain-lain                      – 1 tahun.
B. Bayaran perkhidmatan teknikal  – 1 tahun.

 Kad jaminan ini hanya sah di Malaysia sahaja dan mesti mengemukakan kad jaminan ini dan resit apabila berkehendakkan perkhidmatan.
 Di dalam keadaan seperti berikut, perkhidmatan dan alat-alat ganti akan dikenakan bayaran tanpa mengira tempoh jaminan itu masih laku lagi: –
a) Gagal mengemukakan kad jaminan dan resit pembelian.
b) Pindaan-pindaan terhadap keterangan asal dalam kad jaminan.
c) Kecacatan yang timbul akibat dari salah guna, penyelewengan, kebakaran, kilat, serangan serangga-serangga, voltan luar biasa dan pembaikan yang dilakukan oleh pihak yang tidak diberi tauliah.
 Waranti ini tidak meliputi sebarang kerosakan dan/atau kehilangan, yang merupakan akibat langsung atau sebaliknya, apa sahaja dan dengan apa cara pun disebabkan oleh sebarang kecacatan dalam pembuatan.
 Segala kerosakan alat ganti dan bahan disebabkan oleh kecacatan pembuatan dalam tempoh waranti hanya terhad kepada satu penggantian percuma.
 Kompressor dan alat gantian lain adalah dijamin mengikut syarat pertama di atas dengan syarat barangan ini selalu diperbaiki dalam tempoh laku jaminan ini dengan bayaran daripada pembeli.
 Selepas tempoh jaminan satu tahun dari tarikh pembelian barangan ini, semua kos berkenaan dengan kos pekerja, mengisi gas, pengangkutan atau kos penghantaran dan sebarangan kos yang terlibat dalam barangan ini atau penggantian kompressor dalam jaminan akan dibayar oleh pembelian dan pihak kami hanya menyediakan kompressor yang dijamin dalam tempoh seperti tertera di syarat pertama di atas.
*NOTA: Jika terdapat apa-apa perbezaan di antara versi Bahasa Inggeris, Bahasa Malaysia dan Bahasa Cina, versi Bahasa Inggeris akan diambilkira.
              Top Maple Enterprise Sdn. Bhd. berhak untuk meminda sebarang keadaan yang tersenarai di atas.
 Maple 提供以下保证:

A. 压缩器      – 5 年
    其他零件  – 1 年
B. 技术服务  – 1 年

 此保证卡只适用于马来西亚。当需要保养服务时,必须出示此保证卡及有关收据。
 在下列情况下,即使是在保证期间内,服务和更换零件亦将收费: –
a) 无法示出保证卡片和有关收据。
b) 更改保证卡正确资料记录。
c) 损坏是由于误用,破坏,火患,闪电,或虫蚊蛀蚀坏以及经过未授权技工修理而导致的损坏。
 此保障不包含任何因厂商缺陷所导致、引发的任何损坏及或失误、后果或相关损失。
 在保证期间内,因制造缺点而损坏的零件或材料只可免费换一次。
 压缩器机及其他零件的保障必须和以上第一条保证一样,在保证期间它的修理及保养必须由本公司处理,否则一切费用必须要自付。
 由购买'有关产品'的日期开始至一(1)年的保用期完毕之后,所有与更换仍受保用的压缩机有关的工资费用、再充气、运输和/或货运费以及任何其他费用等将会由买主承担。本公司的义务仅限于在个别的保用期内以及根据以上第一(1)项所列明的各项条件的情况下继续供应相关型号的压缩机。
*备注: 若英文、马来文和中文版本之间出现不一致,一切将依英文版本为准。
            Top Maple Enterprise Sdn. Bhd. 可保留权利修改以上各项条款。
For those products without a special warranty sticker, please consider the following conditions of the warranty.
Compressor, OR Heater Element is guaranteed for 1 year. Only one replacement is allowed during the warranty period & no further correspondence will be entertained.
a) Labour and transport
b) Charging of refrigerant
c) Other components within the refrigeration circuit
a) The warranty original card cannot be produced when claim are made.
b) The warranty original card are soiled, altered or otherwise tampered with.
c) The serial number of product unit compressor has been altered, tampered with or removed.
a) Malfunctions or damages resulting from acts of god, lighting, fire and civil-unrest. Similarly, appliances set that has been dropped or used for rental or commercial purposes are also excluded from this guarantee.
b) Our product are purpose to accepted the power supply voltage is (220 – 240V / 50Hz) and we are excluded warranty for lower or voltage to damages the part products.
c) Claims for damages / missing parts after 1 week from date of original purchase.
d) The product has been subject to misuse, accident, negligence or natural disaster.
e) The product has not been installed, maintained or operated in accordance with the instruction given by the manufactures.
f) Normal wear and tear, corrosion, rust, dents on body or casing enamel paint work.
g) Excluded warranty for product of parts, compressor and other without service maintain cleaning and defrost.
h) The product has been tampered with, under-gone repairs or adjustment by any other person not authorized by Top Maple.
i) Others spare-part NOT warranty.
TOP MAPLE does not accept responsibility for any damage during transit when the appliance is returned to use for repairs or servicing.